We are providing professional oven cleaning!
Thanks to the experience and professionalism of our technicians, your oven can operate at its optimal efficiency again. We are the company in London that offers you value for your money!
Call us now at 020 3475 8344
Clients Testimonials
Great service on a great price!

Very happy with the job your cleaner done, my oven is like new!
Kitchen is that part of the house where you spend a great amount of time while preparing a dinner or a snack for the kids.
Although you try to keep it as clean as possible, the good look of the appliances outside doesn't necessarily means that they are spick and span inside.
We will help you. Just call us at 020 3475 8344.
The special offer of 10% off the regular price is valid in October and applies to all services, listed below.
Kitchen Cleaning
Price

Starting from:

Single Oven Cleaning

£60

Double Oven Cleaning

£79

Extractor Cleaning

£20

Cooker Hob Cleaning

£23

Fridge Cleaning

£60

Single Оven+Cooker Hob+Fan Extractor Cleaning

£99

Double Оven+Cooker Hob+Fan Extractor Cleaning

£119
The Oven Cleaning Service You Need!
The truth is that no matter how careful you are while cooking or preparing food, accidents always happen. To be sure that your appliance is clean and the food you prepare is healthy, experts advise to use professional oven cleaning service regularly.
If you still have not had your oven professionally cleaned, it is high time for you to make your appointment. You can contact us on the number given. We are open seven days a week, including weekends and bank holidays.
Oven Cleaning from Cleaners London
Since oven cleaning is one of the most hated chores, our heartfelt advice is to let us do it for you. The best part is that you do not have to pay a fortune because our prices are some of the most affordable ones in London. Take a look at what makes us a far cry from the rest:
Our oven cleaning service is a very detailed one and includes deep cleaning of all removable and non-removable parts of your appliance such as racks, trays, buttons, door, glass, light bulb protector, etc.
Our expert technicians have access to the latest cleaning equipment. The cleaning solutions are environmentally friendly and toxin-free.
Every bit of the cooking appliance will be treated with utmost care and attention to detail.
We take pride in delivering oven cleaning service which is not only high in quality but low in price as well.
The oven cleaning procedure is done in a quick and efficient manner.
You can feel free to combine our oven cleaning with any other cleaning service we provide.
We provide free no-obligation quotes ahead of booking.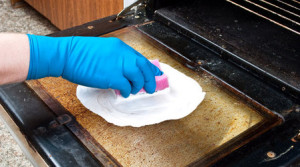 Unless you have the proper cleaning detergents and equipment you can hardly deal with the dirt on your own.
We don't expect you to be a cleaning expert but you were lucky to come across the best cleaning technicians in London who can make your oven spotless in no time.
FAQs about Oven Cleaning
With our professional cleaners you will get the best value for your money in London. We assure you that your oven will be treated with utmost care and attention to detail. The outcome will be superb.

Our professional cleaners have access to advanced cleaning products and tools. All of the supplies are chemical-free and environmentally friendly. What's more, they have been developed over the years to produce satisfying outcome.