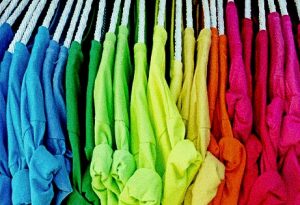 Unfortunately, clothes do not always hold colour so well. Whenever washed, they might bleed colour or fade. There are several reasons for that and even though it seems impossible to prevent, it is not. Let's look at the difference between those terms and how to prevent that from happening.
Crocking – That is the colour transfer that occurs when fabric rubs against something (furniture, shoes or skin). This happens when the dye is not properly adhered to the fabric.
Colour Bleed – Occurs when the fabric gets wet and dye leaches out of the fibres. This usually happens in the washing machine and can result in colour transfer between items.
Colour fade – When the fabric has lost most of its dye and now lacks vibrancy or depth. Continue reading "How to prevent fabric colour bleeding and fading?"